I have a lot of kids, and we all have a lot of dogs. When my children were younger and all still at home, each of them had a dog, and some had two. (We also had a potbellied pig, which was a LOT less fun! Having had one, I think pigs are over-rated as pets.) We've never had cats because I'm allergic to them, so dogs were the order of the day. And each of the children have their favorite breeds.
I grew up with pugs, so I always had a special fondness for them, though they're not always an easy breed. I had two as well when I was grown up. And I had a brief and disastrous try with French bull dogs, and unfortunately got two really nasty ones, so I'm shy of the breed, although I'm sure there are nice ones. The two I had were mean and vicious.
My favorite breed, for myself, are miniature Brussels Griffons. They look like Ewoks, and have funny little squashed faces (a short nosed breed), and if not clipped, have a shaggy look. Some people cut their ears, but I prefer the floppy ear look. And many people shave them with a Schnauzer style haircut, but I like them shaggy looking with longer hair. They are lovable, loving, quiet natured, sleep a lot, and are easy to be with. My favorite favorite current one is Gracie (a blonde), and she looks exactly like the Griffon they used in the movie 'As Good as It Gets'. I also have three others, Meg, Hope and Ruby (who is still a puppy). Meg is black. (Griffs come in blonde or black, and the black ones are harder to come by). And Hope and Ruby are blonde like Gracie. Meg, Hope and Ruby are very sweet, although Gracie is the family princess. Gracie is 3, and the others are 2 years old and 8 months. I had 3 others before this, from the same litter, and they got me hooked on the breed forever. The original group lived to be 14, which is a pretty good run.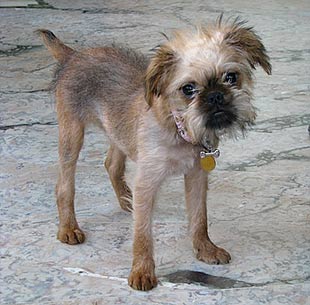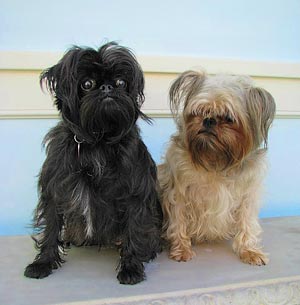 My daughter Vanessa is partial to tiny Yorkies, and she has had some really cute ones. The current star is 'Gidget', who goes everywhere in Vanessa's purse, and looks like a tiny teddy bear with LOTS of personality, and a bigger wardrobe than mine.
Victoria got us started on Chihuahuas and addicted to them. She has a cinnamon colored tea cup short hair who looks like a miniature version of Bambi. Her name is Tallulah, and both Gidget and Tallulah are terrific travelers, and happily sleep in their travelling bags on any flight.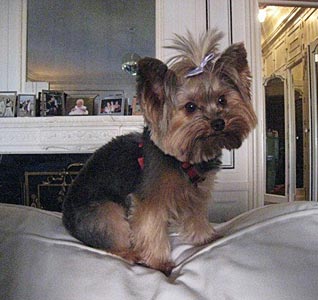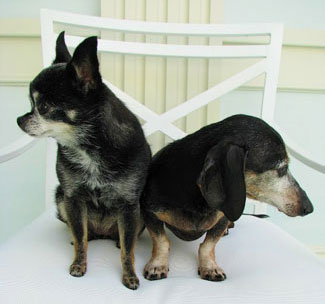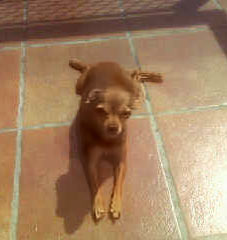 Samantha has the grande dame of the family: Chiquita, a black tea cup who is 13. Chiquita loves to sleep on the couch and hates to fly, and will bark non-stop on any flight, or at any really big dog. Sam also had a wonderful miniature black dachshund, Mia, who passed away in May at 14. She was a great dog and we miss her still.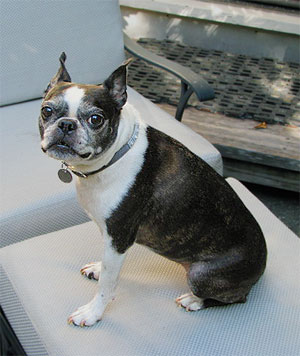 Maxx had the sweetest dog in the family, a Boston Bull Terrier named Annabelle with an adorable disposition. She was a very, very special, lovable dog adored by all who knew her. We were very sad when she died suddenly in June at 13. Maxx and all of us are still very sad about it, and her absence is sorely felt. I hope that Maxx will have a new pet companion one day, but for now Annabelle is much missed and will always be. Losing both Mia and Annabelle recently was very hard since Sam and Maxx had them since they were little kids.
And Beatrix caught the Brussels Griffon bug from me. Hers is named Simon.
Trevor and Alexis have a Jack Russell named Tippy, and a Dachshund name Lafitte. And Todd and Katie have a wildly friendly black Lab named Birdie.
It's a lotta dogs, but we love them!!