Current Hardcover: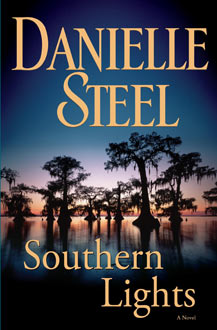 "Southern Lights" Delacorte Press Hardcover, out now.
Southern Lights was an exciting book to write, and required a great deal of meticulous research. The research extended into two areas that were fascinating for me, the intricate mechanisms of the judicial system in New York, and the workings of a murder trial. And for the first time, I wrote about the American South, which has always intrigued me. I've always felt that it is such a special world and culture, rich in history and traditions, that one had to be from the South to write about it. But by writing about a woman from New York, who winds up there by marriage, and later returns to it by force of circumstance, I was able to explore the story and the culture and do it justice. I hope you are as excited about this book as I am. I fell in love with the characters in the book, and I really hope you will too. There are some very special people in this book, and I think it is a rich, interesting story. I learned a lot by writing it, and hope you will by reading it too. Happy reading!!!
If you'd like to know more about this book, and my other work, published by Random House/Delacorte Press, please see my publisher's web site for me at www.randomhouse.com/features/steel.
About the Research:
I research all my books meticulously, with the invaluable help of my researcher, who has worked with me since I began my career. All of the historical books are thoroughly researched. And in the contemporary books, we research locations, cities, industries, legal and medical details, and all the elements that go into the books. The research is as accurate as humanly possible, and literally years of work go into the research for each book.
Upcoming books: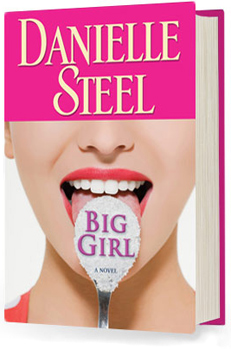 "Big Girl" Delacorte Press Hardcover, due out in February, 2010.
Big Girl is a very special book. Not all women are a perfect size or look like models (except for the 14 year old supermodels they put in fashion magazines), just about none of us look like movie stars (even the movie stars don't look like them in real life!!), and most women have some kind of issue with their weight. How many of us ever feel really gorgeous? And in books, movies, and a lot of fantasies, the gorgeous girl always gets the perfect guy. How depressing. What about real people? And we're all beautiful in some way. In Big Girl, a plain little girl is told by her father that she looks like Queen Victoria (how cool!!! A queen!!! Aren't all queens beautiful? No, not all). And one day she sees a photograph of the British Queen, and realizes what her father was really saying. And Victoria looks nothing like her handsome parents, which can be unsettling for any child. At 7, her perfect, and gorgeous sister Grace is born, and their father starts referring to Victoria as their 'tester cake', the one you use to check the heat of the oven, and the value of the recipe, and throw away until, you get it right. And of course, baby sister Grace is perfect, a golden child. Victoria doesn't hate her for it, she loves her. But their parents' cruelty to her is a constant disappointment and blow to Victoria. And she is heavy even as a young child and everyone refers to her as a 'Big Girl', and among the beautiful people in her family, Victoria is either criticized or ignored. She escapes from Los Angeles to the mid west when she goes to college, and after she graduates, she moves to New York, and gets a job as a teacher, in a prestigious private school. But nothing she ever does is good enough, no accomplishment ever wins her parents' praise, and no amount of dieting (she tries many) gets the extra inches off her body. In this world of obsession with looks and beauty, Victoria is a wonderful person with beauties of her own. As it is for many women, dating is disappointing, and unkind men pull all the stunts that happen to a lot of young (and even older) women in the dating world. Victoria works hard to become the person she wants to be. It's a struggle, and sometimes an uphill battle, like her weight, but she perseveres. Her self image is a constant issue for her, like after all the unkind things her father has always said, and continues to. Even her mother is obsessed with Victoria's weight. Determination, good counseling, and her own persevering nature win the prize. Victoria wins her freedom from the ghosts and shackles of her past, and blossoms into the fantastic, mature, lovable, wonderful woman she has always been. And Big Girl or not, she gets all the rewards she has struggled so hard for, in the end. She is proud of her accomplishments, an admirable woman, and self assured. It's not an easy path, but she gets there in the end. I hope you will love this very special book, and no matter what you weigh, or wish you weighed, or even if you don't care what you weigh, I think the book will be meaningful to you too. Happy reading!!! Love, Danielle
In paperback: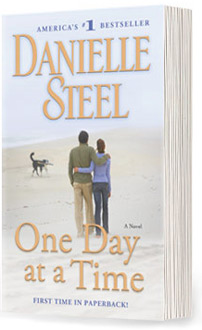 Currently: "One Day at a Time"
I had a lot of fun with this book. It's about a chance encounter between a major Hollywood movie star (male, and handsome beyond belief) and a dog walker (female), while one is house sitting, and the other is a houseguest fleeing from his psychotic ex girlfriend. Their worlds and lives collide, and their hearts follow suit. And they manage to carry on a secret affair for an entire summer, as they get to know each other.
It's a love story I love, with some good chuckles in it, and at a deeper level, the book portrays three unusual couples and relationships. An older woman (much) and younger man (much), and the older woman happens to be the dog walker's famous novelist mother. She discovers her widowed mother's secret affair entirely by accident and is shocked. The second couple is the dog walker's older sister, who is her harshest critic and a successful Hollywood movie producer. She's gay and is in a longstanding relationship with a loving partner. And the dog walker and movie star become a couple too. None are your typical family, all are serious, worthwhile profoundly decent people, trying to make their lives work, and facing some real life struggles that we all face at some point. No matter the age differences or sexual preferences or conflicts in careers, they're real people with real lives, who want the same things we all do. Good lives, loving relationships, and a partner they love, trust and respect.
I hope you have fun with this book, and are touched by it. I had a terrific time writing it.